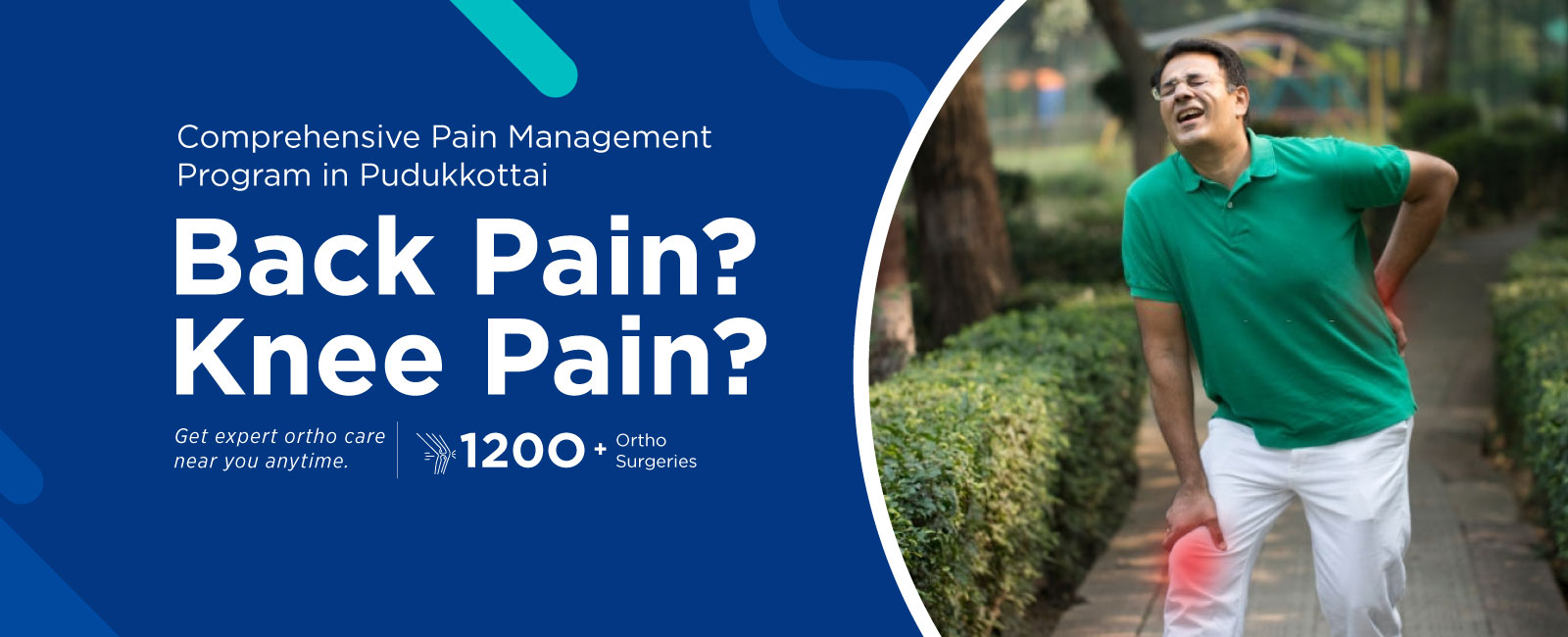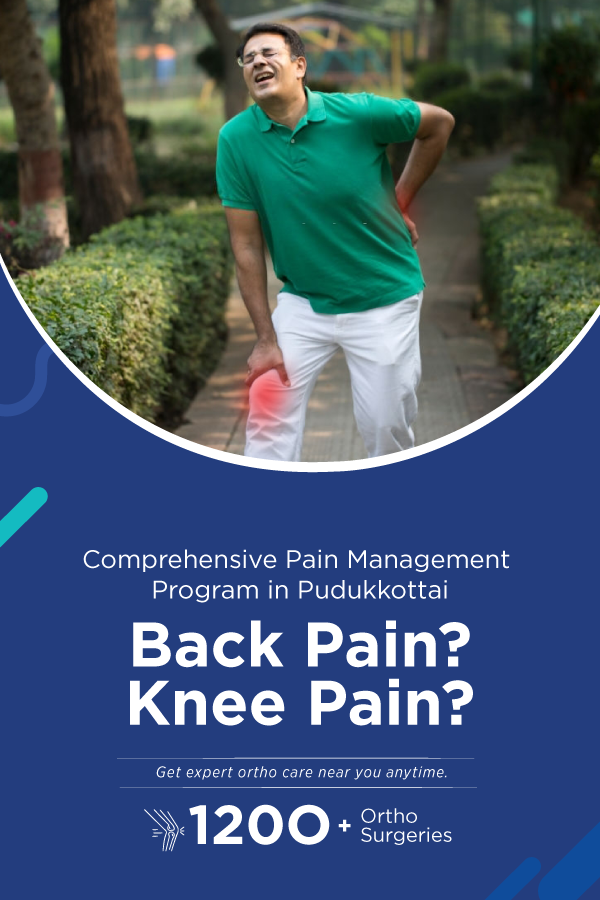 The best orthopaedics hospital in Pudukkottai
Providing the greatest level of care for orthopaedic conditions
The Department of Orthopaedics at MuthuMeenakshi Hospitals, Pudukkottai, caters to a variety of orthopaedic problems. A competent team of doctors is available that can understand, treat, and deliver any orthopaedic treatment and joint replacement. Leading orthopaedic specialists and surgeons carry out a range of common and complex treatments, including fracture stabilisation, arthroscopy, total joint replacements, reconstructive surgery, spine surgery and pain management.
Testimonials
"I visited the orthopaedics department of MuthuMeenakshi Hospitals, Pudukkottai, for a fracture in my hand. The orthopaedist was very polite and helpful. My hand is all better now and I'm grateful to the orthopaedist who treated me."
Shilpa
"My mother had arthritis problem. She visited many orthopaedists, but no one could help her. Then I took her to MuthuMeenakshi Hospitals, Pudukkottai, where she was treated well. She is completely fine now. I'm grateful to the doctors of MuthuMeenakshi Hospitals."
Rajesh
"I used to severe pain in my joints for which I consulted one of the orthopaedists at MuthuMeenakshi Hospitals, Pudukkottai. I was treated for it and now I do not have any more pain. Thanks doctor!"
Ratna Sridhar
Services available for treating orthopaedic conditions
Arthritis Management
Bursitis Treatment
Bone Fracture Treatment
Osteoporosis Treatment
Treatment of Tear of Meniscus
Anterior Cruciate Ligament Injury's Treatment
Fibromyalgia Management
Foot Pain Treatment
Kyphosis Treatment
Scoliosis Treatment
Shoulder Pain Treatment
Knee Pain Treatment
Fracture Treatment and Management
Advanced orthopaedic treatment in Pudukkottai
Arthrosurfacing Knee Repair
Arthroscopy and Fine Surgeries
Articular Cartilage Repair
Bone Grafts
Cartilage Injury Repair
Debridement
Foot Reconstruction
Fracture Care
Hand Repair
ACL Reconstruction
Ankle Arthroscopy and Reconstruction
Arthroscopic ACL Repair
Arthroscopic Joint Repair – Hip/Knee
Arthroscopic Rotator Cuff Repair
Arthroscopic Shoulder Repair
Minimally Invasive Hip and Knee Procedures
Muscle and Tendon Repair
Rotator Cuff Repair
Shoulder Repair & Replacement
SLAP Repair
Uni-compartment Partial Knee Arthroplasty
Hip Resurfacing
Joint Replacement

Anterior Hip Replacement
Minimally Invasive Joint Replacement
Partial Knee Replacement
Revision Arthroplasty
Total Knee Replacement

Ligament Reconstruction
Meniscal Surgery
Our orthopaedic services can help you heal andenableyou to live your life to the fullest.
Cost of orthopaedic treatment and surgery in Pudukkottai
The cost of orthopaedic treatment and surgery at Muthu Meenakshi Hospitals is affordable.
When it comes to surgery, several factors affect the cost and they are as follows:
Type of surgery
Health status
The equipment used in the surgery
Discuss the surgical options with your orthopaedic surgeon and he/she may be able to tell you the final cost of surgical treatment by considering all these factors.
Why should Muthu Meenakshi Hospitals, Pudukkottai,be your first choice for orthopaedic treatment?
MuthuMeenakshi Hospitals consistently tries to integrate cutting-edge technology, the most advanced medical knowledge, and cutting-edge practises in order to guarantee that patients get the best possible treatment. The needs and desires of its patients have always been at the heart of the hospital's dedication to comprehensive care. They are capable of correctly diagnosing and treating a wide variety of maladies, accidents, and illnesses due to their broad medical specialisation.
In-Depth Orthopaedic Treatment
Orthopaedic Surgery Team with Years of Experience
High-Tech Treatment Centre
High-Quality Care
Patient Care Available Around the Clock
Extensive
Medical Expertise
Round-the-Clock Accessibility
Neurology and Neurosurgery
The Neuroscience Department's multi-disciplinary staff of neurosurgeons, neurologists, and interventional radiologists treat a wide range of neurological problems. We undertake numerous procedures and treat neurological illnesses and problems.
Accident and Emergency
The Accident and Emergency Department is one of the biggest in the country, serving thousands of patients annually. The 24-hour emergency and trauma centre can handle any medical or surgical emergency.
Plastic Surgery
The Department of Plastic Surgery is unique in that it offers both aesthetic and reconstructive procedures. The department is a cutting-edge centre that blends plastic surgery with other specialties to provide the finest treatment possible.
Dental Sciences
The Dental Sciences' Department deals with illnesses of the teeth and their supporting systems. It can handle normal and emergency dental treatment.
FAQs
Because bones serve as the body's structural foundation, it is critical that they remain healthy and robust. A diet that contains enough amounts of calcium and vitamin D is essential for maintaining strong and healthy bones. Regular exercise is another crucial action you can take to keep your bone health in good condition. Exercise will also aid in the prevention of orthopaedic problems in the future. Maintaining a minimal coffee and alcohol diet is also beneficial for maintaining healthy bones. Another important component in preserving bone health is to refrain from smoking.
Arthritis is a condition characterized by inflammation of the joints. A joint is a part of the body where two bones come together to form a joint. Cartilage is the connective tissue that surrounds and protects our joints. Cartilage protects the joints by cushioning the pressure and stress that we experience as we move our bodies around. Arthritis may develop when cartilage begins to deteriorate, resulting in tight, weak, and painful joints. Although there are over 100 distinct varieties of arthritis, the two most frequent are osteoarthritis (OA) and rheumatoid arthritis (RA). OA is the most common type of arthritis, followed by RA (RA).
Arthritis has a variety of causes, which vary depending on the kind. Injuries, metabolic imbalances, genetic factors, infections, and autoimmune illnesses are all possible causes of autoimmune disorders. Osteoarthritis (OA) is a condition caused by the regular wear and tear of the joints. Rheumatoid arthritis (RA) is an autoimmune condition that arises when the body's immune system assaults the tissues of the body.
Shoulder pain is yet another fairly prevalent orthopaedic ailment to be encountered. A torn rotator cuff is often the cause of this pain. Injuries and degeneration of the rotator cuff are the two most common causes of the condition. With continuing usage after a tear, you are at the risk of further damaging your rotator cuff. If you are suffering from persistent shoulder or arm discomfort, it is recommended that you see an orthopaedic professional. An orthopaedic specialist would most likely recommend non-surgical treatment, such as physical therapy or steroid injections, to relieve discomfort and restore function in your shoulder for the vast majority of their patients.
Generally speaking, ice should be used to an injury during the first 24-48 hours to help minimize swelling and discomfort. Following an injury, adhere to the PRICE protocol, which stands for Protection, Rest, Ice, Compression, and Elevation. Ice should never be applied straight to the skin. Ice should be applied for 10 to 20 minutes, depending on the severity of the damage and the location of the lesion. The length of time required for application is proportional to the thickness of the wounded tissue. Injury to the knee normally requires 15 minutes of chilling, but injuries to regions with more musculature, such as the quadriceps and hamstrings, need 20 minutes of ice. Skin that is thinner than the ankles and feet takes just 10 minutes to be iced.
Heat is often used to alleviate muscular pain and stiffness. When there is swelling or inflammation, it is never a good idea to apply heat. Using direct heat, such as a heating pad, for 15 to 20 minutes may generally alleviate minor stiffness or tightness in the muscles and joints. Longer durations of direct heat, such as soaking in a warm bath, may be beneficial in alleviating moderate to severe discomfort. Before engaging in any physical activity, it is also beneficial to apply heat to warm up muscles.
Carpal tunnel syndrome is characterized by numbness, tingling, and weakness in the hands, wrists, and, in some cases, arms. Carpal tunnel syndrome is caused by a compressed nerve in the carpal tunnel, which is a tiny passageway located on the palm side of your wrist. In order to avoid further complications, it's critical to see your orthopaedic hand expert as soon as you notice any signs of carpal tunnel syndrome.
There is no one cause of carpal tunnel syndrome in the majority of patients. However, there are a number of risk factors that may lead to carpal tunnel syndrome. The presence of conditions that put constant pressure on the nerves, such as obesity or repetitive motion, might increase the likelihood of developing carpal tunnel syndrome. Also possible is the involvement of inflammatory disorders. In certain cases, an orthopaedic specialist may be able to alleviate symptoms early on by using a wrist splint or by restricting the patient's activity.
Knee pain is another frequent orthopaedic problem that affects individuals of all ages and ethnic backgrounds. Knee pain is often caused by either an injury or an inflammation of the knee joint. Injuries to the knee are one of the most common types of injuries, and they may cause immediate discomfort. Chronic knee pain is a common symptom of arthritis and other inflammatory illnesses. Knee braces or physical therapy may be recommended by your orthopaedic physician, both of which may typically alleviate the discomfort. To address a mechanical breakdown of the knee in certain circumstances, more severe therapy such as injections or surgery may be required.
There are several variables that influence how long it will take for you to completely heal and reap the advantages of your orthopaedic surgery. Some individuals need a few weeks to recuperate after their surgery. Others may need many months to complete the process. It is possible to return home the same day or the next day following surgery, regardless of whether you underwent complete joint replacement surgery. This depends on your general health, the medical condition for which you were treated, and the kind of surgery conducted.
Doctors can observe the region being operated on with the use of medical equipment and cameras in minimally invasive orthopaedic surgery, therefore eliminating the need for huge incisions. Minimally invasive surgery achieves the same therapeutic aims as standard open surgery, however it is associated with the following benefits:
Incisions that are smaller.
There is less harm to the muscles and tissues in the surrounding area.
There will be less blood loss.
Hospitalization is minimum.
Scarring is reduced.
Recovery periods that are shorter.
While the objective of orthopaedic surgery is to restore function and get you back to your normal activities without discomfort, there are always certain limits after the procedure. Consult with your orthopaedic physician about setting realistic goals for your recovery following surgery.
Pain is subjective, and your tolerance for discomfort may be different from that of another individual. In the aftermath of surgery, it is normal to suffer some pain or discomfort at the surgical site, as well as probable bone or joint soreness. Your orthopaedic surgeon will collaborate closely with the rest of your clinical team and other caregivers to develop the most effective pain management plan for your specific needs.
Advances in medical technology — including the prosthetic materials used in whole and partial hip, knee, elbow, and shoulder joints — are helping to prolong the life expectancy of artificial joints, which is good news for patients. In general, today's prosthetic devices have a lifespan of up to 15-20 years, if not more. Your level of exercise, general health, weight, and whether or not you have arthritis, are all factors that might have an influence on the longevity of your prosthetic joints.