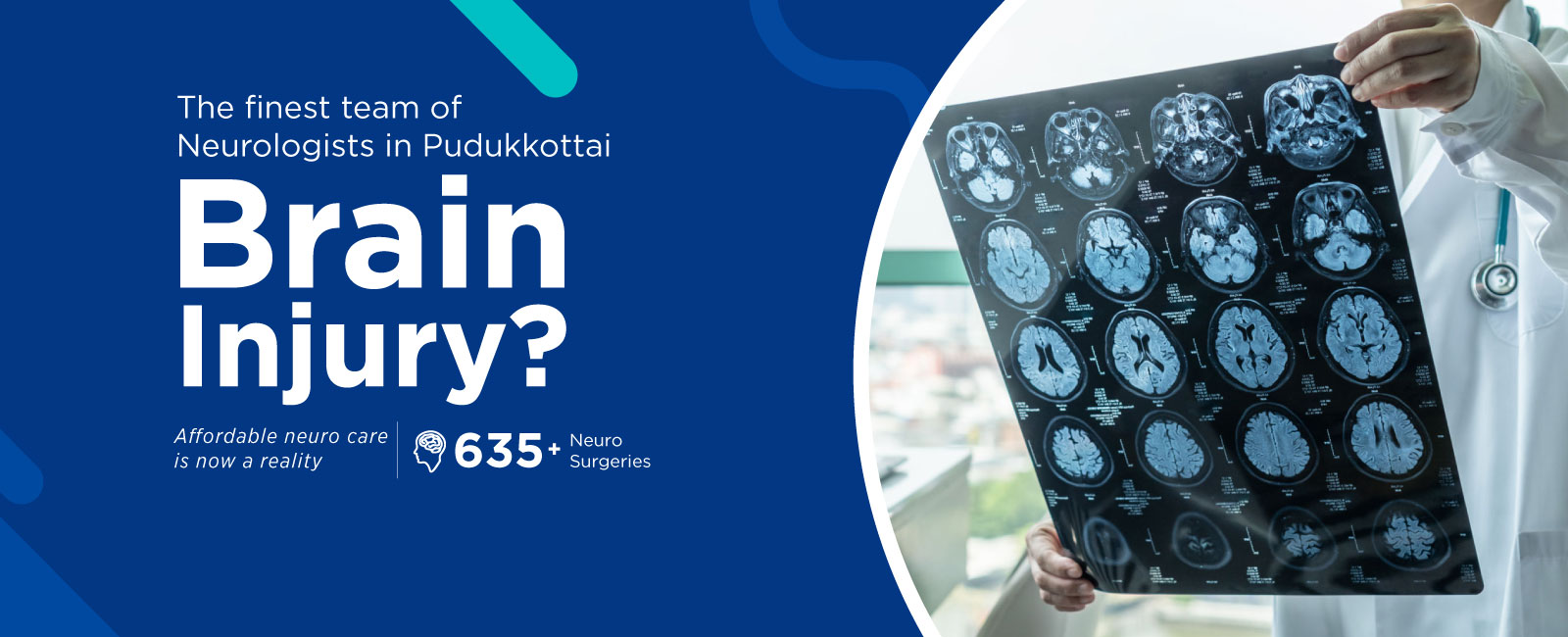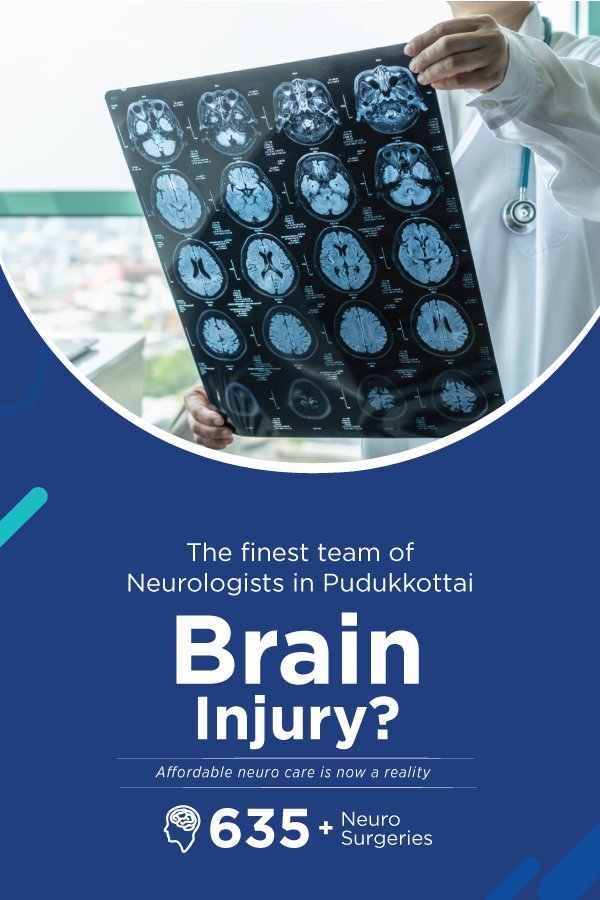 The Best Neurology and Neurosurgery Hospital in Pudukkottai
Providing the highest level of care in Neurology and Neurosurgery
Neurology and Neurosurgery department of MuthuMeenakshi Hospitals, Pudukkottai, provides complete treatment solution for various types of neurological disorders through a multi-disciplinary team comprised of highly skilled neurosurgeons, neurologists, and interventional radiologists. We perform various surgeries for brain tumour, congenital anomalies of brain and spine, neurovascular problems, movement disorders and complex degenerative and traumatic spine diseases. Our team of neurologists is highly experienced in the medical management of stroke, epilepsy, Parkinson's disease, dementia, and neuropathies. The department is equipped with highly advanced instruments for deep brain stimulation, micro-neurosurgery, paediatric neurosurgery, and neurophysiology.
Testimonials
"I had a cyst in my brain for which I visited the neurology and neurosurgery department of MuthuMeenakshi Hospitals, Pudukkottai. The neurologists there are exceptional. I do not have a cyst anymore and I'm living my life as a healthy man."
Ramakrishna
"I visited MuthuMeenakshi Hospitals, Pudukkottai, for migraines. I received superior quality treatment. I can now live my life without the fear of migraines. Thanks doctor!"
Malathi
"I am epileptic. I visited MuthuMeenakshi Hospitals, Pudukkottai, an year ago where the neurologist gave me a prescription for my epilepsy. I do not get seizures anymore. I'm grateful to the neurologist of MuthuMeenakshi Hospitals who treated me."
Jyothi
Diseases and conditions treated
Partial or total paralysis
Weakness in muscle(s)
Loss of feeling on one or both sides of the body
Seizures
Problems in writing and reading
Unsatisfactory cognitive capacities
Unknown source of pain or discomfort
Reduced level of attentiveness
Cutting-edge Treatments
Treatment for Parkinson's Disease
Treatment for Alzheimer's Disease
Treatment for Dementia
Treatment for Stroke
Micro-neurosurgery
Surgery for Epilepsy
Trigeminal Neuralgia Treatment
Neuropathy Management
Our Neurology services can help you get on the road to recovery.
MuthuMeenakshi Hospitals has been a pioneer in Neurology and Neurosurgery. Patients with neurological problems can get a wide range of medical services from us, including diagnostics, invasive and non-invasive treatments, rehabilitation, and long-term care.
Advanced Neurology services in Pudukkottai
Neuro-intensive treatment
Neuro-Diagnostics
Neurosurgery
Neurology and Rehabilitation
Interventional Radiology
Inquire about the price of surgery
Cost of Neurosurgery in Pudukkottai
When it comes to surgical costs, there are several variables that come into play.
The patient's current state of health
Type of operation
Utilized tools
Be rest assured that the cost of neurosurgery in Pudukkottai is economical and affordable at Muthu Meenakshi Hospitals. We are dedicated to offer affordable healthcare to all sections of the society.
Why should you choose MuthuMeenakshi Hospitals in Pudukkottai?
To ensure that patients get the finest possible healthcare, MuthuMeenakshi Hospitals, Pudukkottai, always strives to combine breakthrough technology, the greatest medical knowledge, and cutting-edge techniques. The Group's commitment to providing comprehensive care has always been driven by the wants and requirements of its patients. Their expertise spans the spectrum of medical specialties, and they are able to accurately diagnose and treat a wide range of ailments, injuries, and illnesses.
Comprehensive Neurological Care
Expert Team of Neurologists and Neurosurgeons
Advanced Treatment Facilities
Clinical Excellence
24 x 7 Patient Care
Experienced Medical Professionals
Availability Round-the-Clock
Accident and Emergency
The Accident and Emergency Department is one of the biggest in the country, serving thousands of patients annually. The 24-hour emergency and trauma centre can handle any medical or surgical emergency.
General Medicine
MuthuMeenakshi Hospitals' general medicine department features a staff of physicians that are competent and knowledgeable about a broad range of medical issues. They treat non-acute diseases, identify the sickness, and recommend the patient to a specialist who can adequately plan for the condition's treatment.
FAQs
Migraine, stroke, Alzheimer's disease, and other dementias, TTH and spinal cord injury are common neurological diseases.
Acute neurological disorders are epilepsy, cerebrovascular diseases, multiple sclerosis, Parkinson's disease, neuro-infections, brain tumours, stroke, migraine and other headache disorders, and traumatic disorders due to head trauma.
If you're exhibiting the following symptoms, then you may have a neurological problem:
Paralysis, either partial or full
Weakness in muscles
Sensation loss, either partial or full
Seizures
Difficulty in reading and writing
Poor cognitive skills
Pain that can't be articulated
Reduced alertness
Yes, therapeutic medications used to treat epilepsy and other neurological diseases may be monitored through blood testing.
Genetic diseases, congenital anomalies or disorders, infections, lifestyle, or environmental health issues such as malnutrition, and brain damage, spinal cord injury, or nerve injury are some of the causes of neurological disorders.
For nerve weakness, green leafy vegetables, fish, dark chocolate, broccoli, avocados, almonds, eggs, and salmon are good.
The symptoms of brain damage are seizures, tremors, sensitivity to light, paralysis, extreme physical and mental fatigue and persistent headaches.
An MRI may be able to detect structural abnormalities pushing on the nerve, allowing the issue to be resolved before irreversible nerve damage develops. A neurological examination can generally determine nerve injury, and MRI scan data may be used to confirm the diagnosis.
Severe headaches and seizures may be the first indications and symptoms of a brain tumour. In individuals with a brain tumour, severe, persistent headaches that may or may not be connected to an underlying condition such as migraine are a regular occurrence. It's possible that the pain is stronger in the mornings and that it's accompanied by nausea or vomiting.
Nerve damage might worsen over time if not addressed. It may begin in nerves that are furthest from the brain and spinal cord, such as those in the feet and hands. It may then spread to the legs and limbs.
To treat neuropathic pain, multimodal treatment (medications, physical therapy, psychological counselling, and, in certain cases, surgery) is frequently necessary. Anti-seizure medications are routinely recommended for neuropathic pain.