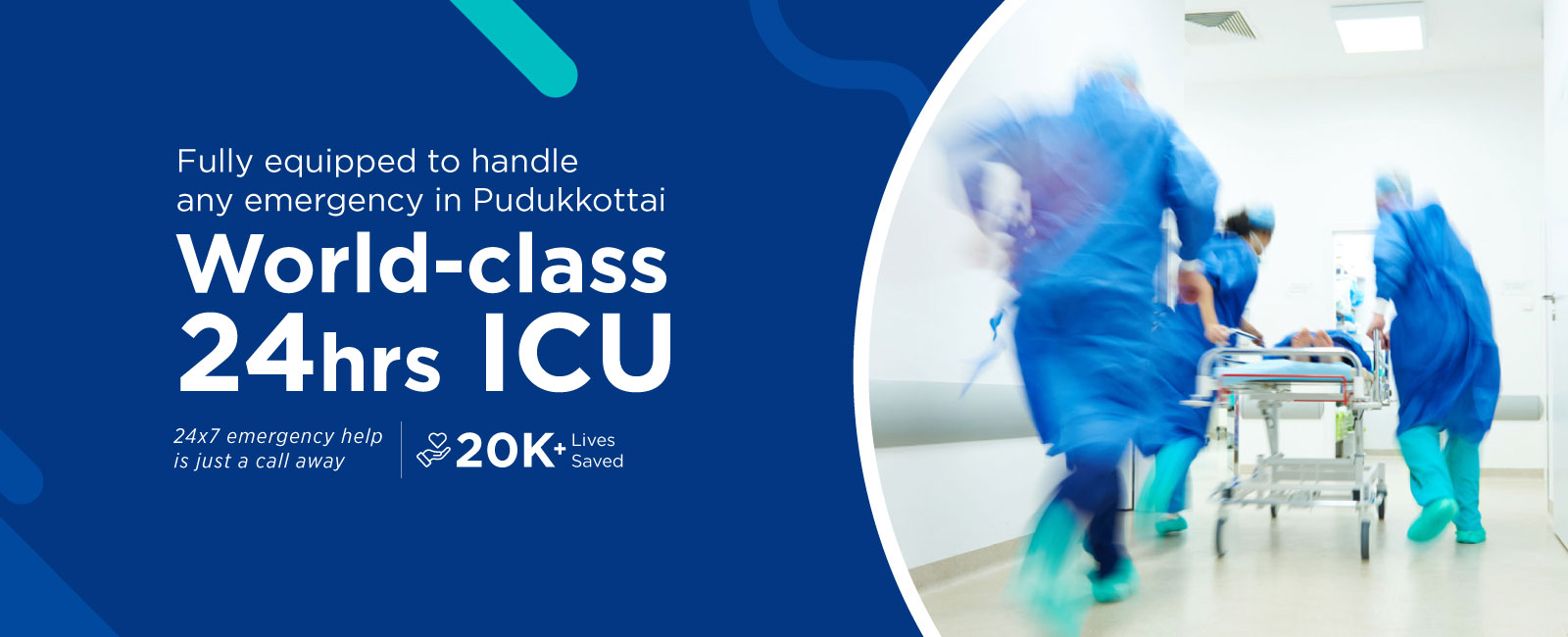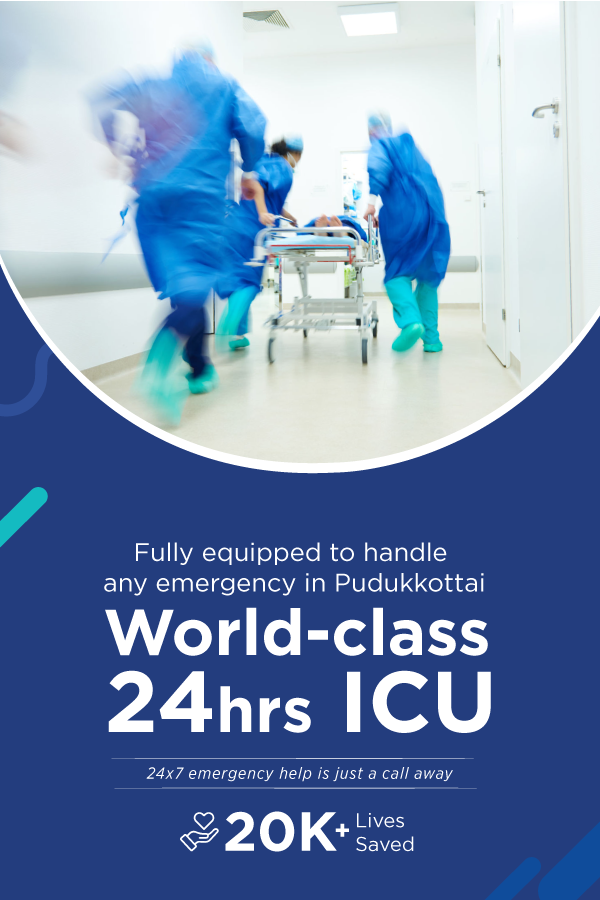 Best accident and emergency hospital in Pudukkottai
Pudukkottai-based Muthu Meenakshi Hospitals, Pudukkottai, is a modern emergency and trauma care pioneer. Its 24-hour Emergency and Trauma facility can handle any medical or surgical emergency. Its Advanced A&E department is built and equipped to international standards. Doctors, nurses, and paramedics staff the department. The department contains enough beds for a surge of patients, the world's most advanced trolley, and 24-hour ambulance, radiological, pathological, and blood bank services.
In an emergency, every second matters. Your physicians or other health care providers should know this. They should also be experienced to make rapid choices since any delay or error might cause death or loss of vital bodily functions. Muthu Meenakshi Hospital's Accident & Emergency Department provides the most sophisticated emergency, accident, and trauma treatment services. We are one of the biggest emergency and trauma departments in the country, handling thousands of patients each year. It has some of the best physicians in the country with years of expertise in emergency circumstances. It is staffed by surgical residents, trauma doctors, emergency department physicians, and nurses.
In addition to our highly qualified paramedics, we have a state-of-the-art HI-TECH ambulance. Our patient care begins before hospitalization. Every ambulance we drive can be called a mini hospital on wheels.
The department's wards are equipped with the newest technology to provide the finest treatment and assistance to accident and trauma victims.
Testimonials
"My mother had a severe breathing problem in which she couldn't properly breathe suddenly. We took her to accident and emergency department of MuthuMeenakshi Hospitals, Pudukkottai. The doctors took control of the situation and brought her breathing back to normal. I and my family are thankful to the staff of MuthuMeenakshi Hospitals."
Balaji
"Recently I experienced severe pain in my chest. I was taken to the department of accident and emergency of MuthuMeenakshi Hospitals, Pudukkottai, where doctors told me that I was having a heart attack. I was treated well and brought back to health. I'm grateful to the medical staff of MMH."
Krishnaveni
"My sister got into a car accident, and she was immediately brought to MuthuMeenakshi Hospitals, Pudukkottai. The doctors at the accident and emergency department treated her and she's now all better."
Meenakshi
Our Areas of Excellence
Fast-track diagnosis of acute diseases such as chest discomfort (angina), stroke (stroke-like symptoms), respiratory distress (bronchitis), etc.
Timely diagnosis through dedicated lab.
Constant 24/7 attention to immediate urgent care.
We are open 24 hours a day, seven days a week for all the unexpected events and accidents that occur without prior notice.
Everyone at Muthu Meenakshi Hospitals understands that every second matters when it comes to medical emergencies. We have efficient employees that can provide immediate aid.
All critical clinical services are available under one roof, including CT, Ultrasound, MRI, X-ray, blood bank, laboratories, and emergency and trauma transportation services, as well as operating rooms, which are all within walking distance of the Accident and Emergency Department.
Patients are easily transferred from the ambulance to the unit while using emergency ambulance services, which are provided by highly qualified emergency and trauma workers on board the vehicle.
Trained medical personnel - The Accident and Emergency Department is staffed with highly experienced and trained professionals.
Modern procedural equipment
Biphasic defibrillators
Multipara cardiac monitors
High grade portable ventilators
Non-invasive ventilators
Pulse oximeters
Portable ultrasonography with the echo machine
Frequently performed procedures
The following procedures are performed at the department:
Mechanical Ventilation: A ventilator is used to assist patients to breathe. It is used in ICUs when a patient cannot breathe on their own.
Cardiopulmonary Resuscitation: It is a set of methods used to resurrect persons whose hearts or lungs have stopped beating or breathing.
Arterial Line: It is used to monitor extremely high or very low blood pressure.
We hope that no patients are admitted to our Accident and Emergency department, but accidents do happen, and they are always unexpected or unplanned when they occur. It is our responsibility to remain on top of the latest developments and to be prepared for the worst. With that being stated, we at Muthu Meenakshi Hospitals, Pudukkottai, are glad to claim that we have grown from establishing an Accident and Emergency department to becoming one of the Best Emergency and Trauma Hospitals in Pudukkottai, where we have an exceptional track record of achieving a favorable outcome.
As one of the most prestigious emergency and trauma treatment hospitals in Mumbai, our objective is to treat more people and save more lives. Our vision is to form a patient-centric healthcare institution that facilitates quality care and utilizes the most innovative technology available in the industry while maintaining a constant smile on our faces.
General Medicine
Muthu Meenakshi Hospitals' Department of General Medicine features a staff of physicians that are competent and knowledgeable about a broad range of medical issues. They treat non-acute diseases, identify the sickness, and recommend the patient to a specialist who can adequately plan for the condition's treatment.
Neurology and Neurosurgery
The Department of Neuroscience's multi-disciplinary staff of neurosurgeons, neurologists, and interventional radiologists treat a wide range of neurological problems. We undertake numerous procedures and treat neurological illnesses and problems.
FAQs
Bleeding, stroke, heart attack, severe pain, epileptic seizure or fit, and difficulty in breathing are some of the frequently occurring emergencies.
A Level One emergency is a crisis or catastrophe that requires considerable reaction and resources from numerous departments/units. Level 2 crises may need outside help. These incidents may swiftly develop, affecting mission-critical operations or endangering lives.
A victim of an accident is treated with the help of medication, fracture treatment or surgery, or a combination of these three.
Breathing barrier in case someone needs to do CPR, use of tweezers to get rid of ticks or splinters, 1% hydrocortisone cream for stings or bites, wiping scissors and tweezers with alcohol, an oral antihistamine, non-latex gloves for treating a wound are all essentials of first aid for common accidents.
Keep the wounded individual motionless. Talking to a victim might help them relax. Wrap the spine or shattered bones with garments or bandages. Stop bleeding by pressing directly on the wound with bandages or clothes.
NSAIDs, such as ibuprofen, are medications that assist in reducing swelling, discomfort, and fever. This medication is accessible with or without a prescription from a doctor.
When wounds are kept warm, they recover more quickly. When changing dressings, try to be as rapid as possible. Exposing a wound to the outside air might cause its temperature to decrease, which can cause healing to be slowed for a few hours. Antiseptic lotions, washes, and sprays should not be used on a chronic wound.
In addition to preventing infection and keeping the wound clean and moist, antibiotic ointments (such as Neosporin) aid in the healing process by keeping the wound clean and moist.
By disinfecting and cleaning wounds and scratches with Dettol Antiseptic Liquid, you can help prevent infection and keep the wound clean. Make careful to dilute the Dettol first by mixing 20ml of it with 400ml of water before using it. This diluted liquid may then be applied to the wound to cleanse it.
For 5 to 10 minutes, run running tap water over the wound to clean it. Use a gauze pad or cloth soaked in saline solution or tap water, or an alcohol-free wipe, and gently dab or wipe the area with it — do not use antiseptic since it may cause skin damage.